5 Plants That Can Help You Feel Better
2 minute reading



Categories


Expert advice Herbs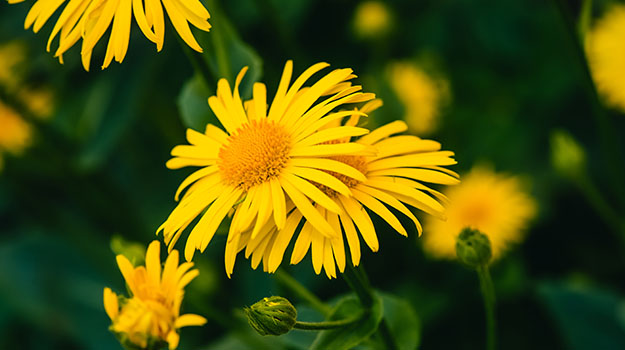 Plants have multiple virtues for our physical as well as mental health. They have always been used to relieve and even cure many ailments such as stress, anxiety, headaches and colds. The following article presents five plants that promote our well-being, each in their own way.
Turmeric longa
This plant is a perennial native to Asia belonging to the same family as ginger. The spice called "turmeric" is extracted from its orange-coloured rhizome (underground stem). Turmeric has many properties: it calms inflammation, helps digestion and helps prevent certain diseases such as cancer and cardiovascular disease. Turmeric is mostly consumed in the form of powder or tablets.
Ginseng
Ginseng (Panax ginseng) is also native to Asia. Its rhizome, whose color varies between white and amber yellow, is consumed in the form of powder or tablets. This has stimulating effects that help counter fatigue and concentration disorders, as well as antioxidant power and anti-aging properties. Who will complain?
Thyme
Native to the Mediterranean basin, thyme is an aromatic plant rich in essential oil. Consumed as an herbal tea or added to a dish to enhance its flavor, thyme will help ease troubled digestion. It also has antiseptic properties and helps boost the immune system.
lemon balm
This perennial plant with white flowers and a lemony flavor also comes from the Mediterranean basin. Among other things, its leaves and stems can be infused to obtain a preparation that will have calming properties. It therefore promotes relaxation and falling asleep and can be used to reduce stress and anxiety.
Arnica
Most often used in the form of granules or cream, arnica is a perennial plant native to North America with many properties. For example, it is an excellent natural way to soothe bruises, muscle and joint pain, as well as minor injuries such as insect bites.
Thousands of other plants are also used around the world for their beneficial effects on body and mind. To you to discover them!