How to master the art of slow living
2 minute reading



Categories


Expert advice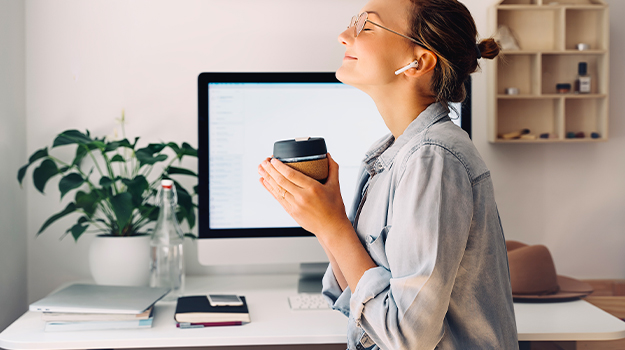 Opposed to fast living (fast life), the concept of slow life (slow life) is to trade the frenzy of everyday life for quality time for oneself and for one's family, the goal being to improve one's quality of life. In short, the recipe is to slow down your pace of personal and professional life while gaining efficiency and improving your social life. Do you find the idea somewhat utopian? Guess it's all about balance. Follow these tips and master the art of slow life.
Arrange tasks and priorities
Above all, forget the endless "to do lists" that only add frustration to the feeling of failure. Good practice is to give yourself daily goals that are achievable on a personal and professional level, by setting three weekly priorities to focus on, without forgetting to take time off for yourself each day.
Recharge in nature
Being in regular contact with nature helps restore inner balance. Whether it's short daily getaways, a weekend hike or an ecotourism trip, nature soothes body and soul. This corresponds perfectly to the aspirations of the followers of the slow life.
Establish the slow food at home
It's not just about what you eat or how you eat it. The slow food reviews the whole culinary process as a means of improving the relationship with one's body as well as with others. We think of the environment by consuming better and more responsibly, we think of our family by favoring warm moments in the kitchen and then around the table, and of course we think of ourselves by learning to listen to the needs of our body. .
Do a digital detox
Do you think you are sorely lacking in time? This is partly because of the screens which consume a lot of it, or rather because of the power you give to them. As a brave apprentice slow living, here is the challenge to take up: spend an entire evening with friends without a smartphone or tablet, then a weekend on a family hike with the only gadget an unconnected camera. The desired objective is to be in the present moment, and to live it fully.
Listening to yourself and others
At the risk of repeating myself, to adopt the slow life, it is necessary to take the time. Reconnect with your mind and body through meditation and breathing exercises. It is also very important to reconnect with those around you. Listening to others, without systematically trying to give an opinion or pass judgment.
Declutter the house
Living in a clean and tidy house increases the feeling of well-being and allows you to rest better and stay healthy. In order not to spend hours every week cleaning, one option would be to declutter the house of unnecessary objects and furniture. Opt for a sleek design ideally adorned with green plants.
If you took the time to read this article, you are already on the right track! 😉