Everything you need to know about the Christmas cactus
2 minute reading



Categories


Indoor gardening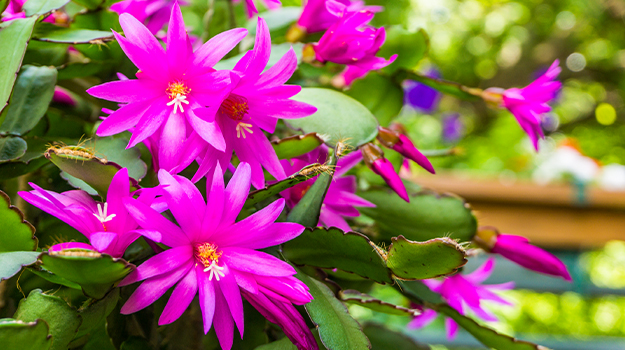 Unlike many plants, the Christmas cactus does not like the sun and dry climates. Native to Brazil, this epiphytic plant usually grows in the tropical rainforest.
In the wild, the Christmas cactus (Schlumbergera x buckley bridgesii) grows on the branches of trees, where it receives moisture from rain, absorbing nutrients from leaves and other plant debris.
Despite its exotic origins, the Christmas cactus does not require much care, but it does have some basic needs.
Light
Indirectly, place your Christmas cactus in a sunny spot. Place it near a window where the light is good, without placing it on the ledge, where it could be burned.
Water
Too much water could cause root rot or leaf drop. However, the Christmas cactus still needs to be watered regularly.
Water generously when the first few inches of soil feel dry, and only stop when the water runs out of the drainage holes. Never forget to remove excess water from the saucer.
Temperature
The ideal temperature for your Christmas cactus varies between 18°C ​​and 21°C during the day, and between 13°C and 18°C ​​at night. Remember to place the plant away from hot or cold drafts.
Fertilization
From late spring to early fall, fertilize your plant monthly. Use an all-purpose fertilizer diluted by half.
Cut
For a bushier plant, prune your Christmas cactus about a month after flowering. Never prune your plant around or after late spring.
To prune the plant, pinch off one or more of the sections. You can even replant them in separate pots if you want new plants.
Repotting
There's no rush to repot your Christmas cactus. Repotting every three years will suffice since this plant appreciates being cramped.
Repot in the spring, once the flowers have completely faded and the plant has started to grow again.
Never repot a plant in full bloom.
Get rid of harmful insects
Various small insects can annoy the Christmas cactus. Remove spider mites with a toothpick or toothbrush. You can also lightly spray them with an insecticidal soap. If that doesn't work, replant your Christmas cactus in a clean pot filled with fresh potting soil.
To have flowers at Christmas
It may take a little trickery to get your Christmas cactus to bloom in time for the holidays. Place the plant in a closet or other dark place for 12 hours each day, 6-8 weeks before Christmas.
Expose the plant to indirect light for the rest of the day. Water sparingly and avoid fertilizing at this stage.
If you want to take a cutting and give it offspring, read our article on the subject.